The Education Outside the Classroom in STEAM Webinar saw teachers from many different subjects such as; Physics, Chemistry, Biology, Agricultural Science, Woodwork, Technology, Construction Studies, and Modern Languages all working together to investigate how EOC could be embedded into their practice.
Colleagues Dr. Deirdre O'Neill, Dr. Regina Kelly and Dr.Orla McCormack asked teachers to share their experiences of EOC in their training or teaching experience so far. Some teachers had never been exposed to this practice while others have visited old convent buildings to explore the U-value and structural changes needed to retrofit our old buildings. One teacher shared about their colleague bringing students to clean up the area around a local river as part of Environmental Studies. We look forward to hearing about your experiences, feel free to add to our mentimeter or join our hub!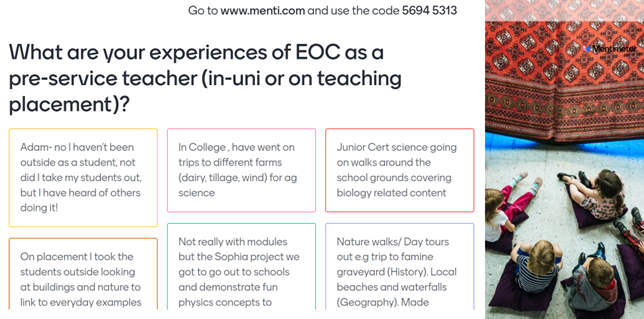 During this webinar STEAM teachers worked collaboratively to develop EOC ideas related to the nitrogen cycle and decomposition of trees - Trees, hardwood and softwoods, native species. Teachers highlighted relevant Sustainable Development Goals (SDGs) such as Climate Action and Life on Land that would complement learning objectives in their respective subject curricula.
We at OTTER found it invaluable to gain insights from our trainee teachers as they plan for engaging opportunities for student to learn outside the classroom. Why not join in on the conversation with these teachers on our International Hub on our website.
Photo: Fox